Fans are flooding into Emirichu's April 1 IG post to congratulate on dating fellow YouTuber Daidus after noticing something. Here's how the confirmation went by.

You know there was a time when animated stories, in the anime style, of course, were a thing on YouTube? Of course, it still is, but with TikTok houses taking over, we're missing a lot of it. Although, there's a completely different fanbase who won't like putting the two into comparison.
A lot of them didn't go to art school, apparently. Well, Emirichu didn't, but the other person under discussion did. "Squid up?" "No, Squid neutral." Whatever that means. If you've been an anime fan and watch these illustrators share their stories on YouTube, Daidus has likely come up more than a few times in the suggestions section.
Oh, you know these guys.
Photo Source: Daidus, Instagram
And apparently, the pair are dating. The buzz has only just begun though. But it goes back to April when she first posted an April Fools photo on Instagram. But it didn't create much of a jolt in the animation community, being an April Fools post and all. However, according to one YouTube video, many have missed a few details from back then.
Emirichu's April Fools Post Suggested She Was Crushing on Daidus
Notice the little pun for one of the photos from the …? Nope…? Aaaaanyway.
It's not new to the community that Emirichu, Daidus, Chris [aka EroldStory], and a few others occasionally make videos and attend anime conventions together. But the topic of dating and relationships in this community is a lot to figure out.
Totally crushing on him.
Photo Source: Emirichu, Instagram
This one was a boyfriend-girlfriend ship easy for fans to build up when the South Korean posted a series of animated photos openly portraiting how Daidus is her crush. But of course, it was an April Fools post with the caption, "Yo what day is it again today i forgot," suggesting it was just a prank. So, no one really knew what to think of it.
You May Like: Ellie Zeiler Has a YouTube Channel, Did You Know?
Either way, many fully shipped the two since then. Everyone wants them together.
Emily Confirmed She's Dating Daidus in a LiveStream, Posted on YT, Which Sent Congratulatory Comments in the April Fools Post
There weren't many connections to link the two together afterward, or more like fans didn't notice. But a video on YouTube has gone awry among their fans, and they are going crazy over their ship becoming real. However, the video was posted back in August, and some are surprised people didn't know they really were dating.
It turns out she'd confirmed her relationship status with Daidus on a Twitch livestream with Hugo of The Artfall, aka ShyStarfall, while discussing the aforementioned post, saying, "Anyways, we are dating." It surprised the host too. Well, now we know we should be on Twitch sometimes to know these things.
Watch: Emily Sim, AKA Emirichu, Confirms Daidus Is Her Boyfriend
https://www.youtube.com/watch?v=nrlPQbaHgY8
[The video was deleted by the user under the request of the owner. You can find half of the video here on Instagram, the part where she, at least, confirms she's dating Daidus.]
The video also suggests reading the description as it says Emirichu made a confirmation comment in the same post, which is nowhere to be seen. It apparently read, "Surprise it wasn't actually an april fool's joke HAHA." She also said, in the livestream, that the comment has been buried somewhere. Good luck finding it.
Also See: Prince Harry and Meghan Markle Sign a Deal with Netflix!!!
Either way, it took quite some time for a lot of the fans to know Emirichu and Daidus were a real thing. They're happy nonetheless. And it was only now that the congratulatory comments have come for the pair, particularly Emirichu, on her April Fools post.
"YOU GUYS ARE DATING!?!?!" The most excited on wrote. "ACTUALLY DATING!?!?! I SAW THE VIDEO I WANT TO SCREAMMMMM HEJEHEHRH4HE ♡♡♡"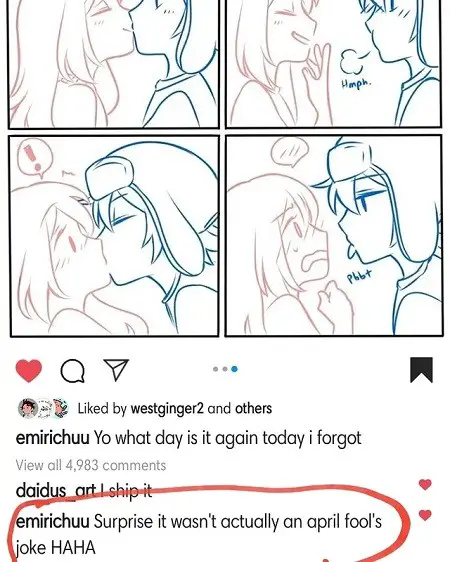 A Redditor caught the comment four months ago though.
Photo Source: Emirichu, Instagram
"I came here after finding out you guys were real!" Another exclaimed. "The real deal! Omg. I screamed so loud, my mom almost got the urge to take my phone!!!!! Ahhhhhhhhhhhhhhhhhhhhhh! I'm so happy!"
So it seems, Emirichu and Daidus really are dating. The livestream was apparently the first time she's said that they were dating out loud. But being the non-expressive (Instagram-wise) types, it's reasonable.
To be noted: The feature photo in this article is one of many fan arts made to ship the two. This particular one is by Megan L. Layo, aka Ryuu Chie. See her Instagram page (@megieee_chan) for more.

Continue tuning into BAE Magazine for more stories from the entertainment world. Be sure to stick around for more updates. You'll love the movie news.