Sophie Fergi's fans allege she's been blocked by Piper Rockelle & the squad, and they are fuming over the virtual end of their friendship. However, she's got a new fan!
The last few days have been a whirlwind in the infamous squad Piper Rockelle started up a couple of years ago, with Sophie Fergi in the thick of it. Fergi spoke of the breakup with boyfriend Jentzen Ramirez in a bid to clear out why Jophie was over, and with it, she gave her thanks and goodbye to the entire squad, all but sealing her exit from the squad.
Following Sophie's video, fans were quick to get on the comments of every single post & videos the squad members made, criticizing Piper & the squad for overlooking the fact that one of the most important members, rather an OG, has left. They were more furious when they found out Piper & the squad members had blocked Sophie on Instagram. It's all over social media.
The situation in the past few weeks also separated the couple as a consequence.
Photo Source: Sophie Fergi, Instagram
Fans are riling up in support of Sophie, so much so that Instagram pages have been set up looking for justice for her, with one of them blaming Piper's mother for not letting her think too much of Sophie. Of course, Tiffany manages her Instagram account and hasn't let her post a single tribute to their friendship, as it looks like. Although, there's no need to rush into such judgment.
Does This Mean Sophie And Piper Are Not Friends Anymore?
With the events leading to Sophie's exit from the squad, it's unclear if she and Piper are still friends, but the popular belief is that the friendship is all but over. Piper did give her tribute to Sophie in Jentzen's video, but fans thought it wasn't sincere enough, considering Sophie was full of tears during her unofficial goodbye video.
We can't just say they aren't friends anymore, despite the current situation.
Photo Source: Piper Rockelle, Instagram
There hasn't been any mention from the other members of the squad too, as they celebrated the 14th birthday of Ruby Lightfoot, who appeared with singer Gavin Magnus in his squad, The Goat Fam. Of course, Sophie wasn't there, neither were Gavin or Sarah Dorothy Little in Piper's IG stories.
Though not saying anything, fans think the silence implies that the friendship is over. But to keep it positive, fans should really not consider that thing. One would know, it would be hurtful to Sophie otherwise, who's posted a couple of 'I miss you' posts about Piper. See? She's keeping it real.
Also See: Breaking Down the Facts on the Question, "Did Sophie Fergi Leave the Squad?'
Meanwhile, the friendship of Sophie and Gavin, or as fans call it Savin, is getting traction. And despite Gavin reconnecting with Piper until over a week ago (he's also unfollowed Piper on IG!), the situation with Siper has ruled out the return of Pisogav for now. Fans could hope things will work out in the future.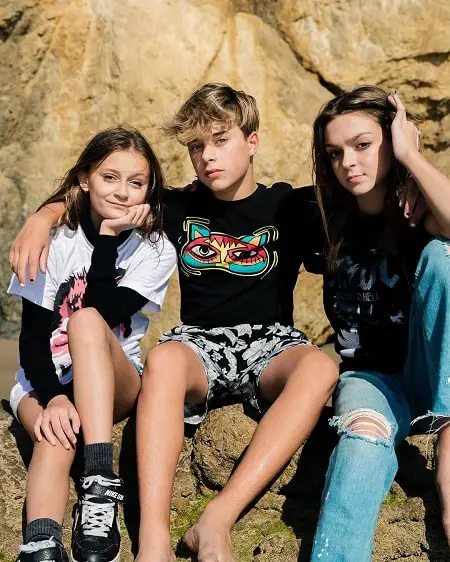 They are striking to be quite the trio.
Photo Source: Gavin Magnus, Instagram
In contrast to everything with Piper, Jentzen is getting praise from the fans for his relationship with Sophie. At least, he isn't getting any negative feedback on social media. That's positive. And everybody is moving on. Fans just need closure.
Sophie's Excited That She's Among the 552 People Musician Marshmellow Follows on Instagram
In the midst of everything, Sophie shared some exciting news via Instagram stories. The 13-year-old shared a snapshot from the Instagram account of Christopher Comstock, or as fans know him, the DJ Marshmellow, sharing the list of people he follows. And she's right there.
It's most certainly an elite list.
Photo Source: Sophie Fergi, Instagram Stories
Well, TikTokers Blake Gray and Jaden Hossler are also on the list, but it's a huge privilege for her to be among only 552 people he follows. In contrast, he has over 30 million followers, making it all the more extraordinary.
Recommended: Why Gavin Magnus and Coco Quinn Broke Up
She definitely has some good things going if one overlooks the situation of her having left the squad. Although, that's still up for confirmation. But her future is definitely with her two new best friends, Gavin and Sarah. And Piper's squad is also going about their usual business, with her YouTube subscriber-count towering 6 million recently.
Continue tuning into BAE Magazine for more stories from the entertainment & the social media world. Be sure to stick around for more updates.