Vibe Crew LA Tiktok releases their first ever dance cover on Michael Jackson 'Thriller' and here's the review of their first-ever dance cover with details of vibecrewla members.
If you have been following the internet trends then you might be hearing a lot about the Vibe Crew LA. Yes, the group of 19 young and rising Internet star. If you have been following any among the 19 members, you might already know about the group
And for those who were waiting for their music video to be released, the group recently released a thrilling dance video cover of legendary Pop Star Michael Jackson 'Thriller'. Before we proceed to the article, we request you to check out the video first, so we guys can have a clear understanding of the review below.
Watch: VIBE CREW Recreates Michael Jackson's THRILLER Scary Video Dance | Vibe Crew
Well to be honest, the video didn't seem exciting as we expected! The Choreography was 'fine' but not 'Amazing'! And we're talking straight here,
Vibe Crew LA 'Thriller' Review
The video was entertaining and the dance moves reflected MJ Vibes, however, there are room for improvement.  Some of the improvement need to be opted by the group in the coming days is adding up more creative steps, and well choreography between each other.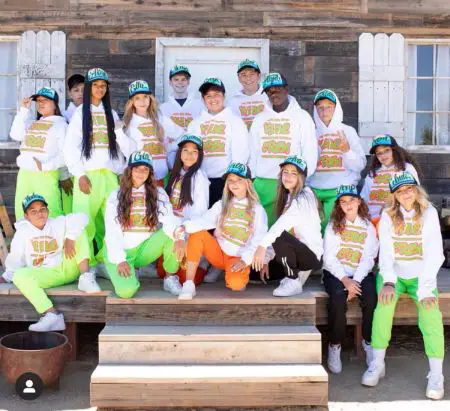 Snippet of Vibe Crew LA Members.
Image Source: Instagram (@vibeecrew)
The dance was performed by Corrine Joy, Gianina ,Evan Hernandez ,Madison Rojas, Lexi Hernandez, Artyon, Walker, Jd McCrary, Stefan, Indi Star, Ava Kolker, Lilly Ketchman, Txunamy, Elliana Walmsley, Enzo Lopez, Akira Akbar, Lexy Kolker, Merrick Hanna.
Amongst them, Evan's b-boying was one the highlighting factors on the video. Maddison Roja 'Dougie' moves also seems impressive and Indi star cartwheel also added a little charm in the video.
The Michael Jackson portrayal and dance by Reeve Davis was impressive as he did his parts beautifully. However, Vibe Crew for the next video we suggest you to focus more on timing, choreography and steps by the members!
Some dance move in the songs timing was not well blending with each other and the steps were not harmonizing. And the other thing Vibe Crew can really go on with is their 'video direction'  as the video could have been directed more nicely.
Check Out: Walker Bryant Celebrates 14th Birthday with a Fresh 1 Million Look Amidst Indi Star Breakup
Overall the video was good and we are not just trying to highlight the negative part. We enjoyed the video and the Horror theme was impressive. And we fairly can't judge the Crew in just one video as its their first ever video. So we sure are excited for the next video.
Well what do you guys think about the Thriller Dance cover. For more Pop Buzz updates visit BAE Magazine.